What is a Good Outdoor TV for a Backyard?
With TVs From Seura and Sunbrite, You Can Enjoy Your Favorites Movies, Shows and Sporting Events by Installing Outdoor Video for Your Westchester County, CT, Home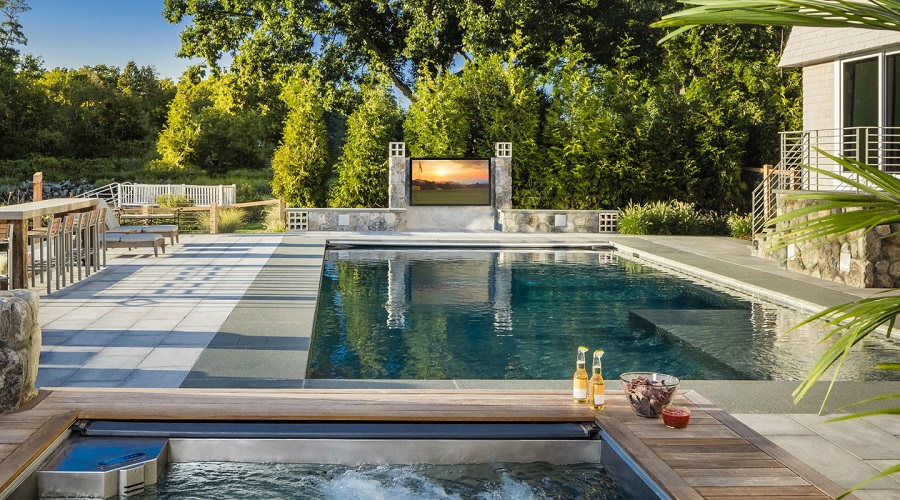 Summer is the time for outdoor fun, so why are you limiting the way you watch your favorite video content to your home's indoor spaces? With an outdoor video installation from Phoenix Audio Video, you can put on your favorite show while you relax by the pool, bring family and friends over to watch the big game outside, enjoy a movie under the stars, and so much more.
We only work with the best brands when it comes to our products, and if you're looking for a TV for your yard, that means Seura or SunBrite. Today we'll walk you through the basic requirements for an outdoor video system for your Westchester County, NY, home and what both brands have to offer.
SEE ALSO: 3 High-Tech Upgrades You Want for Your Home in 2019
OUTDOOR VIDEO BASICS
Unfortunately, an outdoor video installation isn't as simple as going to your local big box store, buying a TV, and plugging it in outside. Outdoor TVs demand certain requirements to cope with the challenges presented by the natural environment.
First and foremost, you must consider the weather. If you're going to put a TV outside, it needs to be hardened against rain and other weather conditions. There's also the matter of humidity, dust and insects, all of which could damage your display.
The second major concern with an outdoor video installation is brightness. Even if your TV is in a shaded area like a veranda, the extra light and glare from being outside makes traditional screens hard to see. You can think of this just like how your phone screen is harder to view in direct sunlight, even if you have the brightness turned all the way up. Accordingly, TVs made for outdoor use are extra bright to make it easy to get a crystal-clear picture.
SEURA
Seura has two outdoor TV lines depending on where you want the display installed. Their Shades Series works well in areas with partial shade such as covered patios, shaded decks and cabanas. The Ultra Bright series is made to handle full sunlight and the worst weather conditions.
There's no need to worry about brightness when it comes to Seura. Shades Series TVs are around 60% brighter than standard indoor displays, and the Ultra Bright models are up to three times brighter. Both product lines feature 4K UHD resolution and HDR technology, giving you sharp, colorful images. Ultra Bright TVs also include Seura's patent-pending Adaptive Picture Technology, which changes multiple picture settings in different lighting conditions to provide the best picture quality.
Ultra Bright TVs have an operating temperature range from -40 to 140° F, so they'll keep working in the worst winter storms as well as scorching summer heat. You also don't have to worry about rain or other water sources; Ultra Bright TVs have a waterproof rating of IP54. This means they are "Protected from immersion between 15 centimeters and 1 meter in depth, and protected from limited dust ingress" according to international standards.
You can buy a vinyl shell to cover your TV for additional protection. And if your display is damaged, Ultra Bright TVs include a 2-year limited warranty (where most companies only offer 1-year warranties).
SUNBRITE
SunBrite has three outdoor TV models for different areas of your yard: The Veranda Series, Signature Series and Pro Series. The Veranda Series works best in fully shaded areas like your patio or sunroom. The Signature Series is designed for partial shade, while the Pro Series is made to work in full sunlight and is the most rugged model.

The Veranda Series is about 50 percent brighter than a standard home theater, while the Signature Series and Pro Series are up to three times as bright as their indoor counterparts. Since it's designed for partial shade, the Signature Series includes a commercial-grade antiglare screen; the Pro Series screen uses similar technology and includes other features to compensate for the extra heat from direct sun exposure.

Of course, with any TV it's important to know how the image quality you're getting. The Veranda Series and Signature Series have 4K UHD resolutions, and the Pro Series has a standard HD screen.

Lastly, each SunBrite line operates in a slightly different temperature range. The Veranda Series can handle temperatures from -24 to 104° F, the Signature Series rated for -24 to 122°, and the Pro Series having the broadest range at -40 to 122°.

Ready to enhance your outdoor fun this summer with a Seura or SunBrite TV? Call us today at (203) 338-0706, or visit our online contact page.

No video selected.