We will transform your landscape and outdoor living space by designing and installing a beautiful landscape lighting system. We specify the finest LED products and guarantee our turn-key landscape installations with a lifetime warranty...from the transformer through to the last fixture.
Inspired by Necessity & Design
Outdoor lighting fixtures and cabling are subject to the corrosive effects of UV radiation, high humidity, adverse weather conditions and temperature swings. Our solution is to design and implement all the products and systems necessary to produce the ultimate turnkey, low maintenance solution that can reliably live up to and exceed our clients' expectations. A well-planned lighting system will guide you and your guests along pathways and through changes in topography. Specialized security lighting can unpleasantly surprise intruders who would prefer not be caught in the center of the spotlight. Outdoor lighting will accentuate your most beautiful landscape features, artfully lighting trees will reveal the beauty of their limb structure and shoot dramatic patterns of light and shadow through clusters of foliage.
Introducing Coastal Source
The foundation of Coastal Source was inspired by the need for superior products that could stand up to the harsh elements found everywhere along the east coast. After years of extensive research and development, they perfected the technology and methodology used to produce their full line of quality products available today. Coastal Sources energy efficient LED lighting is available in countless styles, including bullet, lip, step, wash, well, and path lights. New and unique products such as micro-size niche and dual function Tiki-Torch lights are a testament to Coastal Sources superior innovation and commitment. Extension risers, different trim styles, multiple finishes and other accessories are available offering even more customization for your outdoor environment. Available flush mounts and tree mounts allow for seamless downlighting options in almost any location.
Defying the Elements
All Coastal Source fixtures are hand-built featuring 100% brass construction, right down to the nuts, bolt and stake. Multiple O-rings provide a barrier to stop water, debris, bugs and other elements from getting inside. Convex glass also dispels water and debris. Because connections are the number one cause of failure in lighting systems, the unique Coastal Source Patented Plug-n-Play Cabling System eliminates all failures for life and provides the most reliable way to make a connection. This design process is driven by art and science producing a line of products that perform without fail in the harshest environments. Coastal Source outdoor lighting is the result of dedicated research and innovation surpassing traditional standards using superior construction techniques and durable architectural details.
Where Design and Technology Meet
As design integrators, our intention is always to accent the native charms of your landscape rather than impose an elaborate design upon it. Before we do anything, we take the time to view and appreciate your property or plan-set. We observe the given assets of color, form, sunlight, and shade in the environment. This is why our landscape lighting will never interfere with your enjoyment of a starry night sky by calling attention to itself. Our light levels are balanced and adjustable, and the fixtures positioned discreetly out of sight. A tasteful lighting system design will contribute to the magical experience of your garden at night. Adding or eliminating fixtures is no problem thanks to the Coastal Connector system which we can modify with just a few twists. A great landscape system is only as good as the control system behind it. All systems are packaged with an easy to use keypad or app based control interface, permitting the end-user to edit schedules to accommodate their ever-changing lifestyle. These modern systems also adjust based on built-in astronomical clocks - so your lights will never operate during the day!
Lifetime Warranty
Coastal Source products and systems are only available from certified dealers who are dedicated to the Coastal Source standards of excellence! Being a cerified dealer, we are thoroughly trained in their design standards as well as installation techniques, providing an understanding of both the design and technological potential. It's this understanding  that makes these systems different and superior to all others on the market today. 
All residential landscape lighting systems installed by Phoenix Audio Video qualify for the Coastal Source Lifetime Warranty—from the transformer through to the last fixture.
Click Here to view the Coastal Source product brochure.
Getting Started
If you would like to consider a Coastal Source system for your current residence or upcoming project, please 
contact us
. We will assemble the appropriate team to evaluate, design, install and maintain your landscape lighting system. Take the first step toward bringing your backyard to life, for life!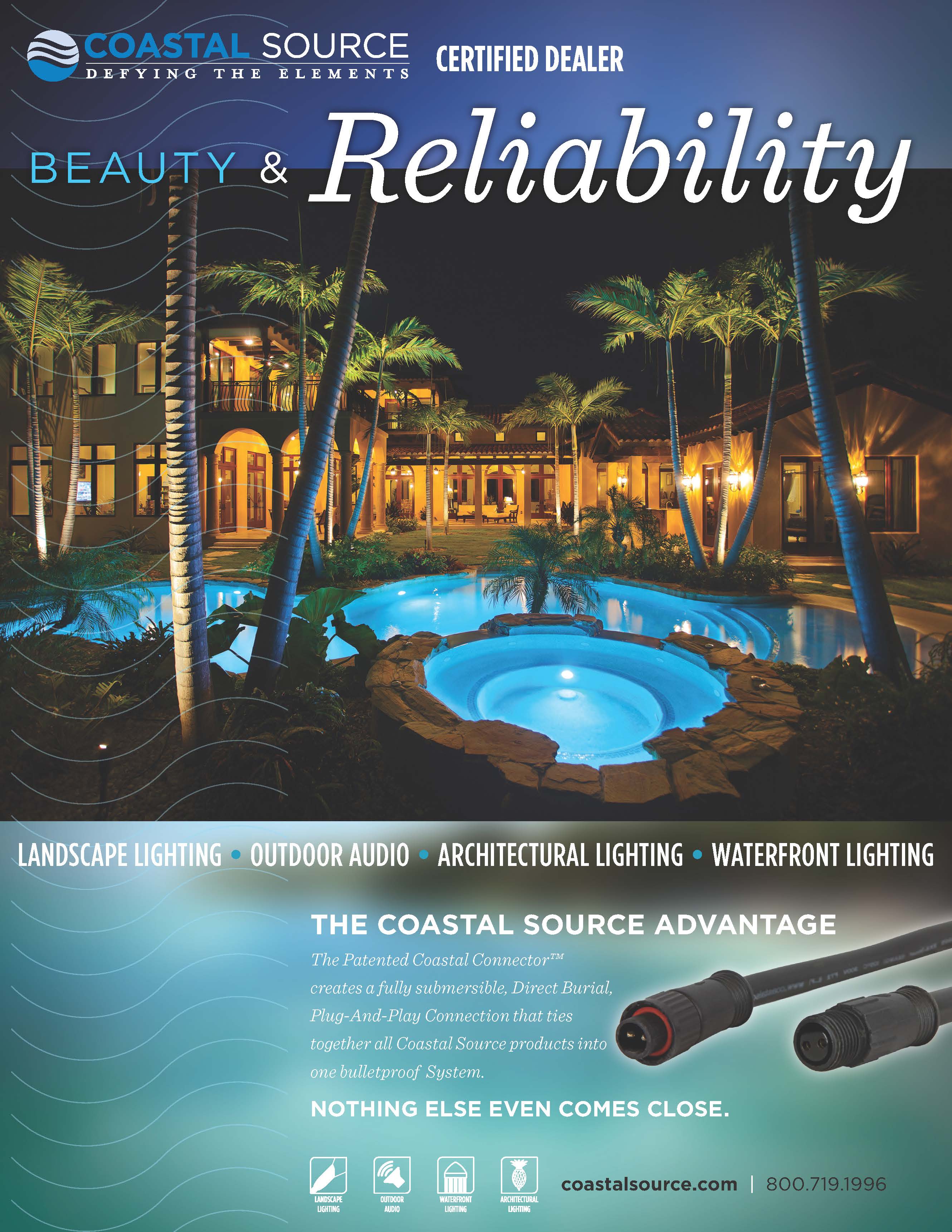 Click Here to view the landscape image gallery.
WHAT PEOPLE ARE SAYING ABOUT COASTAL SOURCE
"We don't have to look beyond our own yard to be amazed!" "Not only is your landscape lighting system superior quality, but the flexibility of your waterproof plug-n-play coastal connections allows maximum flexibility and ease of placement to add, move, or remove fixtures making customization and optimization a snap." - Jon Landau, Academy Award winning producer of Avatar and Titanic 
"We really think these lighting products are superior to others we have used in Coastal areas." - Deena Bell Llewellyn, Bell Landscape Architecture
"Coastal Source makes the very best lighting" - Maureen Smith, Maureen Smith Landscape Architecture
"Your products are far above anything I had past experienced in the lighting world. The quick connect system also improved my team members enjoyment of the installation, and that allows them to creatively install a better finished product. All those special features have led to some great numbers over the last two years, and a variety of unique projects of outside audio, dock/pier lighting, and landscape lighting." - Tanek Hood, Reynolds Landscaping
Have an upcoming Residential project?
Smart audio, video, Lutron lighting and motorized shading solutions start with expert advice. If you're in Greenwich, CT, Darien, CT, Westport, CT, New Canaan, CT, Rye, NY, Bedford, NY, Scarsdale, NY or the surrounding area, give us a call.