Get Ready for the Super Bowl with New 4K Displays
Now's the Time for a Home Theater Upgrade to Make Sure You See Every Play in Stunning Detail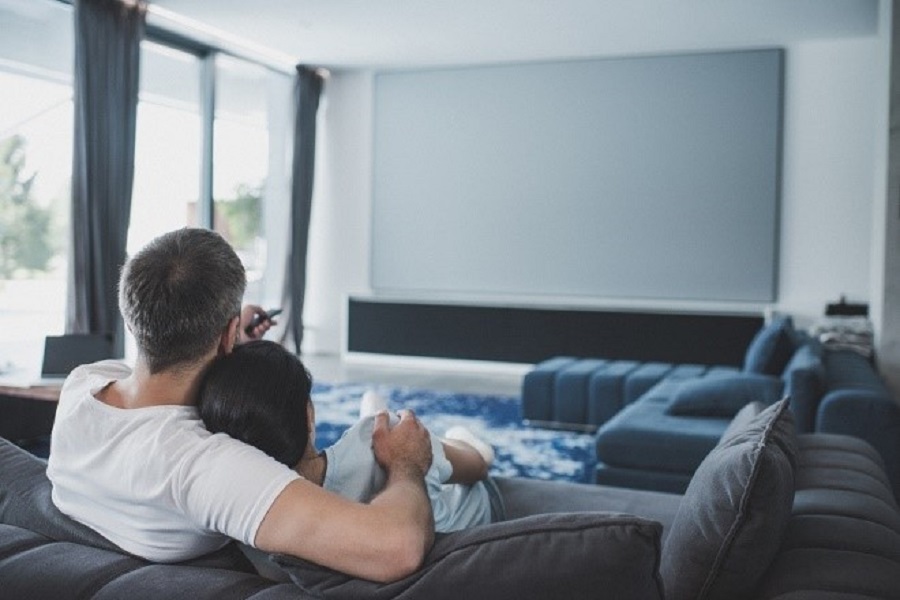 The NFL conference championship games have been played and we have our winners, which means we're just a few days out from Super Bowl Sunday. Regardless of whether your favorite team is playing in the big game, it will be a day of celebration and watch parties, so it's time to see if your TV can bring the game to your home theater or media room in as much detail as possible.
If you haven't looked at the high-end TV market in a while, manufacturers have been busy building new models with innovations that render images in breathtaking detail. Let's examine some recently released displays and see how they can improve the home theater design of residents in the Greenwich, CT region.
SEE ALSO: 3 Essential Elements You Need in Your Home Theater
Sony MASTER Series
If visual fidelity is your determining factor when it comes to buying a TV, then it's time to consider the Sony MASTER Series. When a film is transferred to TV, the media is digitally compressed, eliminating some of the picture quality. Sony has made it clear that the idea with the MASTER Series was to create a display that reflects the vision of media creators as accurately as possible.
To that end, all the Master Series models use Sony's X1 Ultimate processor, which has produced some stunning results. In their review of the A9F model last year, Forbes compared the images to that of Sony's X300 professional monitor and found they "… clearly track the color tones, shadow detailing and black levels … more closely than the LG E8's pictures do."
If you want to get beyond the basics, there are other features that make the MASTER Series an attractive option. On certain models, the screen itself functions as a speaker using Sony's Acoustic Surface Audio+ system, which may help if you have space concerns in your home theater. Another appealing feature of the MASTER Series, especially for binge watchers, is the Netflix Calibrated Mode; this setting tweaks the images on screen when watching Netflix content to "preserve the artist's creative vision and intent," according to a Sony press release.
Samsung QLED series
Samsung debuted its QLED technology – which uses nanometer-sized Quantum Dots to produce colors on a screen with greater precision and intensity – several years ago to great acclaim, but issues with picture contrast and other concerns kept them out of the top TV rankings. The company appears to have bounced back, though, with the Q9FN QLED TV.
The Q9FN solves the contrast issue by using a new type of lighting system. While prior Q Series models used an edge-lighting system, the Q9FN uses Full Array Local Dimming (FALD) technology to produce much sharper images and fuller colors.
FALD systems work by placing the full array of LEDs behind the screen in different control zones. These zones allow for much finer control over the amount of light that hits the screen, resulting in greater contrast and color range. Finding a TV that stands out from the competition can be a challenge with today's market, but TechRadar said in their review that the Q9FN "delivers the best 4K high dynamic range pictures we've seen to date."
LG OLED displays
LG's OLED displays have been market leaders for a while, and recent offerings continue the trend of impeccable craftsmanship and performance.
LG refreshed all their OLEDs in 2018 with their new Alpha 9 processor, which allows for better upscaling for non-4K content as well as smoother motion on screen and greater color contrast. In fact, in their review of the E8 OLED, TechRadar said it's "easily the best picture performer LG's TV division has ever produced. Which is saying something."
LG has also tweaked the software of their displays to increase their capabilities. All the company's high-end TVs now feature the ThinQ AI system, which includes a built-in Google Assistant as well as Amazon Alexa functionality. Combined with an array of other smart home features, you can't go wrong with an LG 4K display.
Ready to upgrade your home theater design ahead of the Super Bowl? Call Phoenix Audio Video at (203) 338-0706 or visit us online.