Lutron's New Wire-Free Palladiom Shades Bring Elegance and Functionality Together
Discover intuitive shades that respond to the touch of a button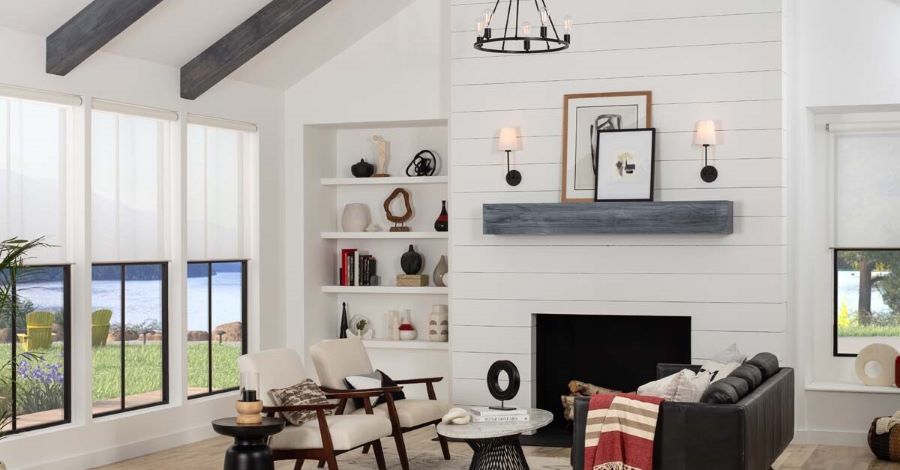 Lutron has been the global industry leader in shades and lighting for decades. Part of the reason for their continued top spot is their commitment to technological advancements. In 2021, they brought their A-game yet again when they introduced their new line in Lutron motorized shades: Lutron's wire-free Palladiom shading system.
Let's discover why people are talking about their new wire-free shading system and what it can do for your Greenwich, CT home.
SEE ALSO: Why Now Is the Perfect Time to Plan Your Custom Home Theater
Exposed Roller Shades
Trending in today's home automation lines is exposed roller shades. Palladiom shades, available as a wired system since 2017, don't require a pocket, fascia, or recess, creating an industrial elegance made for exposed applications. Instead, the hand-finished aluminum brackets come in a variety of finishes that accentuate any architectural style. In addition, the balanced bottom rail adds a unique design element.
This state-of-the-art premier shade line offers sophistication and incredible design blended with the latest technologies now in a wire-free, battery-operated system. As with all of Lutron's shade solutions, they run on the industry's quietest electric motor.
Fabric Options
Palladiom shades come in over 100 different fabrics and colors as well as three different opacities.
Sheer, open-weave materials let in the sun's rays and allow you to retain the beautiful landscape views even when the shades are down. Light-filtering translucent fabrics offer just enough light to turn the sun's harsh rays into a filtered glow and are the perfect solution for rooms requiring privacy. In addition, room darkening shades are ideal for media rooms and bedrooms when complete darkness is preferred.
As with their other shading solutions, Palladiom shades offer complete daylight management, enhancing a home's décor while conserving energy.
Stylish Control
The sleek, stylish keypads designed to control these shades accent their aesthetics with powerful automation. Both intuitive and beautiful, one touch can activate a custom scene, control the lights of any room or the entire home, or manage individual fixtures. Our certified technicians can program them to create the lighting scenarios you prefer.
The keypads come in numerous colors and finishes, including satin brass, bright nickel, polished graphite, and clear black or white glass. Custom engraved backlit buttons are beautiful and easy to find in a dark room. Keypads hold up to four buttons and come in 1-4-gang displays.
Lighting and Shades Combined
When you utilize the best that Lutron has to offer, your home can automatically synchronize with the sun's changing light. The blinds silently lower when the sun's direct glare heats the room in the south façade facing windows. The lights embrace the changing hue of the sun throughout the day, and the temperature adjusts to keep the occupied rooms at a comfortable level.
When combined with a Savant home automation system, climate, lighting, entertainment, and security are managed from one intuitive, user-friendly tablet, in-wall keypad, touchscreen, or smartphone. In addition, Savant and Lutron offer customized programming, scalable to large estates or multiple dwellings.
At Phoenix Audio Video, we're committed to delivering home automation solutions that combine the latest technology with easy-to-use solutions. To learn more about Lutron's latest shade and lighting solutions or to schedule a complimentary consultation, contact Phoenix Audio Video today.