Looking for Your Perfect Home Theater?
Achieving the Ultimate Home Theater Design with Hidden AV & the Latest in Video Processors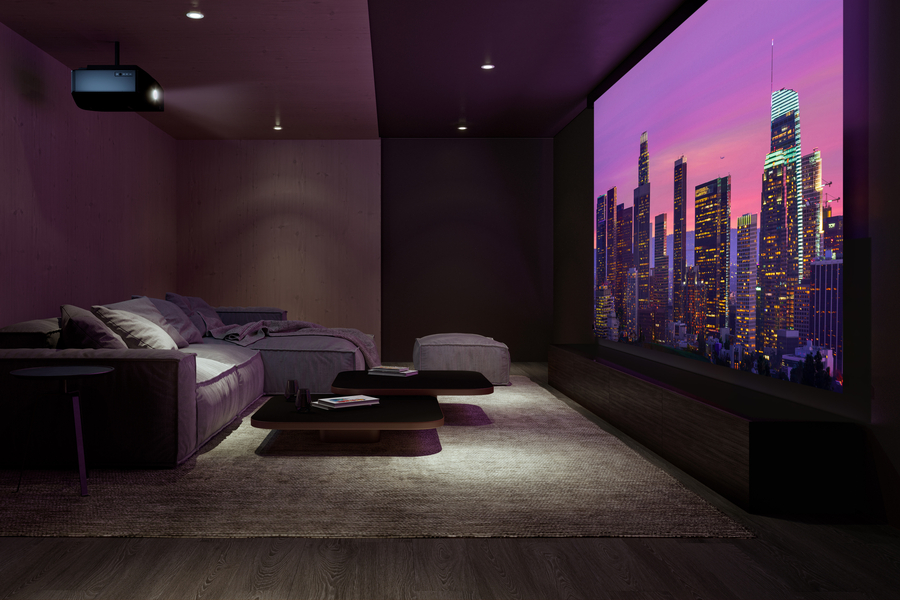 For many of our clients in Fairfield County, CT, staying up to date on the latest smart devices and technology systems has become a lifelong passion. These are homeowners who know what they want and trust Phoenix Audio Video to be there for them. So, when one of them asks us for a new home theater design, we are always happy to help! Some homeowners prefer a statement piece, such as floor-standing loudspeakers and a massive TV screen. Others opt for power and subtlety instead.
In this article, we explore the process of creating a subtle yet powerful home theater featuring a revolutionary MadVR video processor for the ultimate cinematic experience at home!
SEE ALSO: 3 Essential Elements You Need in Your Home Theater
Invisible, Powerful, Integrated AV
A home theater may be designed to look and sound like a dream, but without an expert installer to integrate and automate dozens of smart devices, the end product may underperform. This is especially true for the type of theater we have in mind. Take surround sound as an example. Featuring hidden architectural devices built into the walls and ceilings, each speaker in a Sonance surround sound system must be manually calibrated to your home. The same is true for the subwoofer and amplifiers.
For unparalleled stealth, we could also opt for TRUFIG outlets and switches, designed for a flush installation and finished to blend in with virtually any material or decor. Then, there is the choice between a TV or projector screen and figuring out the best video processor for your new home theater.
What Is the MadVR Envy?
When it is time for the movies, an automated, integrated home theater will be waiting for you, ready to spring into action at a tap on your smartphone. But what if you want to watch something other than a movie on the big screen? Depending on the source and aspect ratio, it may look terrible, even on your brand-new projector screen. That's where the MadVR Envy comes in.
The MadVR Envy is a movie processor that instantly detects any aspect ratio to adjust images to fit your screen and optimizes every single pixel with a patented 4K HDR dynamic tone mapping. Thanks to its revolutionary machine-learning algorithms, it even processes and enhances highlights and shadows—all in real-time. This process results in industry-leading 4K upscaling, sharpening details with unrivaled precision no matter the video source.
Your Home, Your Theater
Whether your home theater is meant for watching Hollywood films, sporting events, or social media content, a professional designer can make it better. From advising you on the best smart lights and motorized shades to installing the latest AV equipment available, our experts are ready to help and just a phone tap away!