How Security Cameras and Automation Protect Your Property
Safeguard Your Home and Loved Ones with Remote Home Automation and Smart Home Security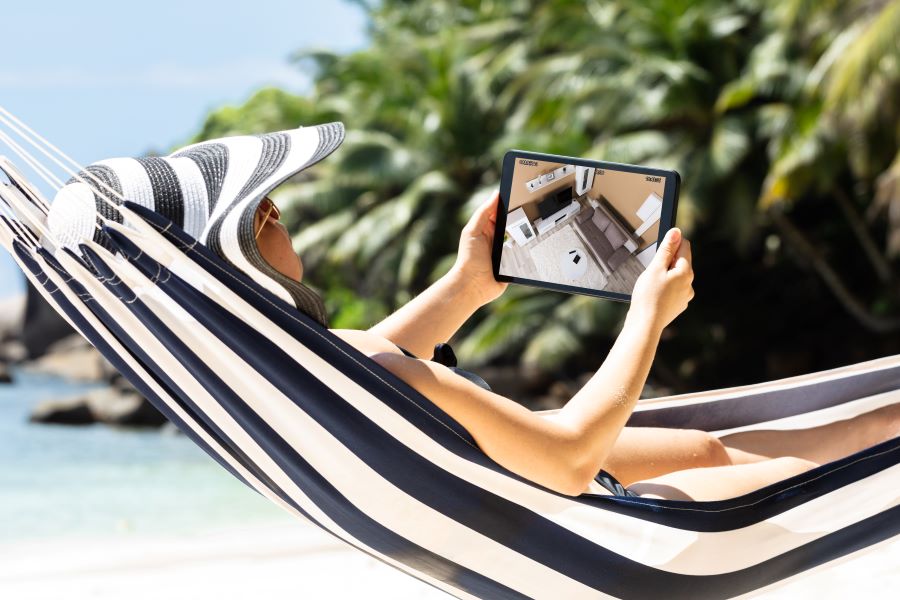 Today's smart home security brings a peace of mind that was once unimaginable. No longer limited to grainy videos that you pull up to see what happened in the past, these security cameras provide a sense of immediate safety, a proactive measure that stops theft, damage, or harm before it occurs.
Let's explore how you can use video surveillance to increase safety and security at your home in New Rochelle, NY.
SEE ALSO: Enjoy the Luxury of Lutron's Automated Shades and Lighting
Mobile Device Alerts and Remote Operations
In more than half of all unoccupied residential break-ins, burglars gain entry through open or unlocked doors or windows. Smart security cameras can be managed from anywhere in the world via your mobile device or laptop. You'll receive an alert when motion is detected or if someone forgets to lock the door. You can immediately tune into the live video feed to see what's happening, lock the door, and set the alarm.
If someone comes to the door, you receive a notification. If you see the pet sitter through the cameras, you can unlock the door and let them in. If it's someone you don't recognize, speak to them through two-way audio. Indoor cameras enable you to check in on your kids when they get home from school and see what your pets are up to when you're away. Today's HD cameras offer crystal-clear videos with images that look similar to your high-definition TVs.
Integrates with Smart Home Systems and Devices
When integrated with your home automation system, lighting and motorized shades can act as additional proactive security measures. For example, program an "Away" button that secures your home when you're gone, making it look like it's occupied. Motorized shades raise and lower, and lights turn on and off like you are home.
You can also create a "Good Night" scene that locks the doors, arms the alarm, turns off the lights, and lowers the shades, ensuring privacy and protection when it's time for bed.
Professional Installation Required
Some homeowners attempt DIY solutions. While these offer a level of security, big-box products can sometimes cause more false alarms and leave much of a home unguarded.
At Phoenix Audio Video, our certified technicians know how to produce maximum coverage and install the types of cameras best suited for each unique household and situation. For example, homeowners who frequently go on vacations or business trips need a different setup than families more worried about their toddlers heading to the pool.
Security and safety risks are a part of life, but we can minimize the chances of a crime or safety issue occurring. To learn more about smart home security cameras or to schedule a complimentary consultation, contact Phoenix Audio Video today.