Excite Your Senses With Stunning Outdoor Video
Discover How Séura, Samsung, and SunBriteTV Can Elevate Your Outdoor Entertainment Experience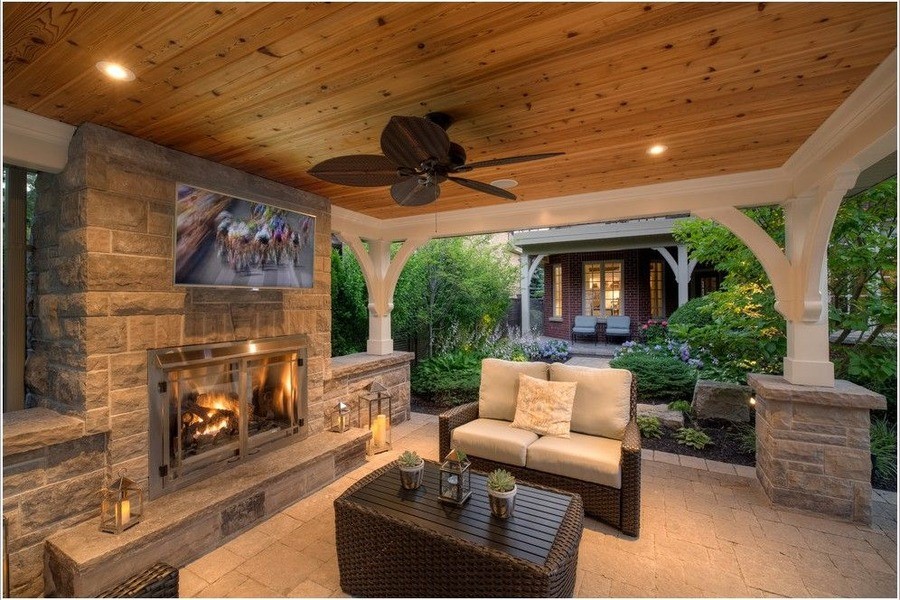 Bring the entertainment outside while relaxing by the pool, on your patio, or under your gazebo. What better way to do it than by adding outdoor video at your home in Fairfield County, CT? Today's vivid, high-definition TVs offer stunning displays like no other. So, you can enjoy your favorite movie or show even in the middle of the day without worrying about glare and a faded display.
The latest TVs from Séura, Samsung, and SunBriteTV dramatically improve the way you enjoy your time with family and friends. And a state-of-the-art TV will be a big crowd pleaser when you host your next party. Read our blog to find out how you can kick the fun up a notch by installing an outdoor TV.
SEE ALSO: 3 Brands to Help You Get the Most From Outdoor Audio
SunBriteTV: A Bright Idea for Outdoor Video
Not all TVs are created equal. If you appreciate quality technology, then you know that already. Still, you may not realize that indoor TVs aren't the best choices for outdoor spaces. For instance, your home theater TV may provide a fantastic display, but if you put it outside, the screen would get washed out by the sun. That's why outdoor video needs to be much brighter than indoor TVs.
One of the leading manufacturers of outdoor TVs, SunBrightTV features the Pro 2 Series that offers a 4K UHD HDR screen, which is 400% brighter than indoor TVs. Full sun? No problem! The TV delivers a breathtaking, vivid picture in even the brightest outdoor environments, like next to a sunny pool. It's available in three sizes: 49", 55", and 65". And because it's an outdoor TV, it's completely weatherproof.
SunBriteTV also has two other models, the Veranda and the Signature 2 Series, available in different sizes. The Veranda Series works well in fully shaded areas, such as a sunroom or shaded patio. The Signature 2 Series is designed for use in partial shade. All their models feature superb displays and can handle extreme temperatures, with the PRO series able to withstand temperatures up to 122° F.
Séura: Weatherproof, High-Definition TVs
When you're ready to enjoy a quiet movie night or have a festive tailgate party, make sure you watch it on a Séura outdoor TV. Séura's weatherproof TVs provide exceptional performance and superior displays. Whether you choose from their Ultra Bright Series or Shade Series, you'll enjoy all the benefits that vivid 4K UHD and HDR technology has to offer.
The Ultra Bright TVs provide bright displays even in full sun and have an operating temperature that ranges from -40 to 140° F. Even if it's below freezing or sizzling hot, your TV can withstand just about any condition. Their Shades Series, even though they are outside TVs, are not ideal for full-sun areas. Install them on a patio or in a shaded area, and you'll still enjoy outdoor video that is 60% brighter than indoor TVs. Between the two series, the TVs are available in four sizes: 43", 55", 65", 75", and 86".
Samsung Terrace: A Smart TV for Outdoor Spaces
Rain, snow, or shine – you'll enjoy your Samsung Terrace TV all year long! The Samsung Terrace not only provides a vivid, bright picture, but it is also a QLED TV. What does that mean? Although similar to a regular LED TV, the Terrace uses tiny nanoparticles (quantum dots) to supercharge its brightness, color, and contrast. The quantum dots also deliver a billion shades of brilliant color. That's a lot of color! The result is a display that never blurs but provides stunning realism and details that bring the images to life.
The Samsung Terrace also features anti-reflection technology, so the sun doesn't stand a chance with this TV. No glare. No washout. No viewing problems. It's truly a smart TV that was made to live outside. Finally, because it is smart, you can easily navigate your TV by voice command or with remote control. The Terrace comes in three sizes: 55", 65", and 75."
Ready to improve your outdoor experience with a Samsung Terrace, Séura, or SunBriteTV? Call Phoenix Audio Video today at (203) 338-0706 or visit our online contact page.