The Home Theater Upgrades You Need This Holiday Season
Concealed Technology, Effortless One-Touch Control, and Unlimited Media in the Palm of Your Hand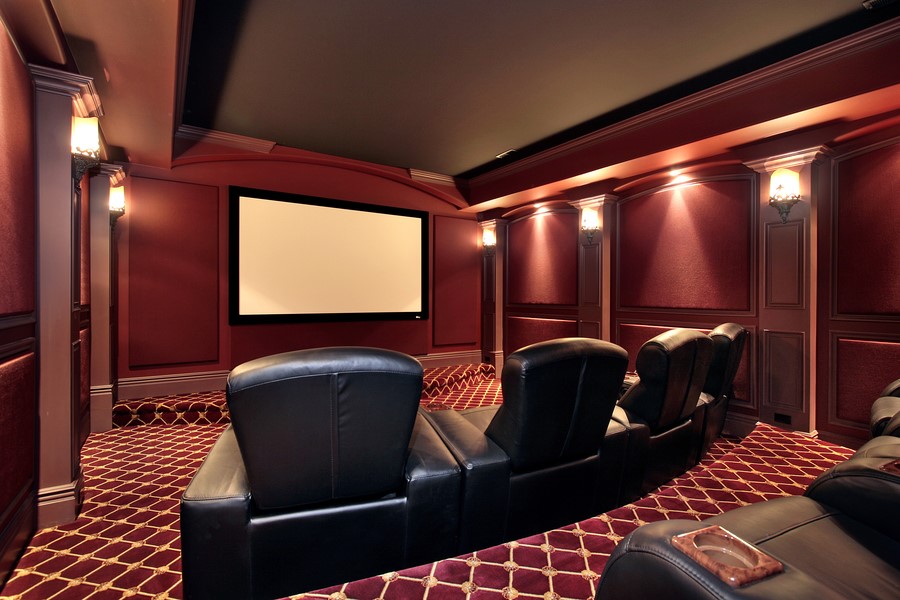 As the holidays begin and the cold weather rolls in, now is the perfect time to curl up with loved ones and enjoy this season's latest movies and TV shows. And what better way to do so than in a private home theater?
A dedicated home theater installation brings the excitement of the cineplex to the comfort of your Westport, CT home with an immersive screen, surround sound, plush theater seating, acoustic treatments, proper lighting, and more.
Whether you're a homeowner or a builder, keeping up with the latest home theater innovations is imperative to creating an unbeatable viewing experience for all. Below, we explore three upgrades your home theater needs this holiday season for a cinematic environment that is bound to impress. Read on for details!
SEE ALSO: Make Any Room a Home Theater with These Hidden Technologies
Expertly Hidden Technology
No one can deny the luxury of an immersive home theater. However, the sheer amount of technology that goes into creating such an environment may be off-putting for those who prefer a more simplistic interior design that isn't disturbed by bulky speakers and yards of wiring.
Now, imagine a home theater that blends right in with your interior design. The screen stays hidden until ready for use or camouflages as a beautiful mirror on your wall when turned off. Speakers hide entirely behind your walls and ceilings, never seen but always perfectly heard. Wires are also installed behind walls, and source components are nowhere to be found, thanks to hidden equipment racks and centralized control of all your media.
Our team at Phoenix Audio Video works with leading manufacturers like Sonance, Séura, and Savant to bring high-performance AV and control solutions to your home theater that add beauty to your space or stay out of sight so as not to disturb your style. Now you can impress your friends and family with the feel of an immersive home theater without intrusive technology taking up the room.
One-Touch Control
What's the point of having a simplistic, sophisticated home theater design if you're left with a plethora of controls? One of the joys of going to the nearby movie theater is the luxury of simply walking to your seat with popcorn in hand and waiting for the movie to start. That magic is lost at home if you're always getting out of your seat to adjust the lighting or find the right remote to turn up the volume.
With a Savant system, every control is integrated into a single platform for an intuitive user experience. Pick your movie or TV show, adjust the lights and room temperature, turn up the volume, and pause—all from the same smart device. Once you get comfy in your seat, you won't have to get up again. Plus, you can say goodbye to that pile of remote controls cluttering up the table.
Your Favorite Media All in One Place
This holiday, make it easier than ever to watch all your favorite movies at the touch of a button. With a media server like Kaleidescape, you can choose from an array of incredible 4K UHD films, including your own uploaded DVDs and Blue-ray discs that Kaleidescape will upgrade to 4K resolution for you. Plus, once you purchase a movie to watch, it's yours forever and located conveniently with the rest of your films.

Kaleidescape also plays films at up to 60 frames per second, delivering premium picture with no compression or buffering. Talk about a true, crystal-clear cinema experience. Navigate all your movies from the same smart device that houses your Savant system so you can enjoy whole-theater control from a single platform.

Make the holidays a little merrier this year with a truly impressive home theater that brings all your loved ones together. When the technology is concealed and control is effortless, all that's left is an unforgettable viewing experience.

Learn more about incorporating these home theater upgrades into your home or build by calling us at (203) 338-0706, or fill out our contact form. You can also gain some inspiration by exploring our past home cinema and media room projects here. We look forward to serving you!

No video selected.