Everything to Know about Lutron's Palladiom Shading System
Learn about the Many Benefits of These Motorized Window Shades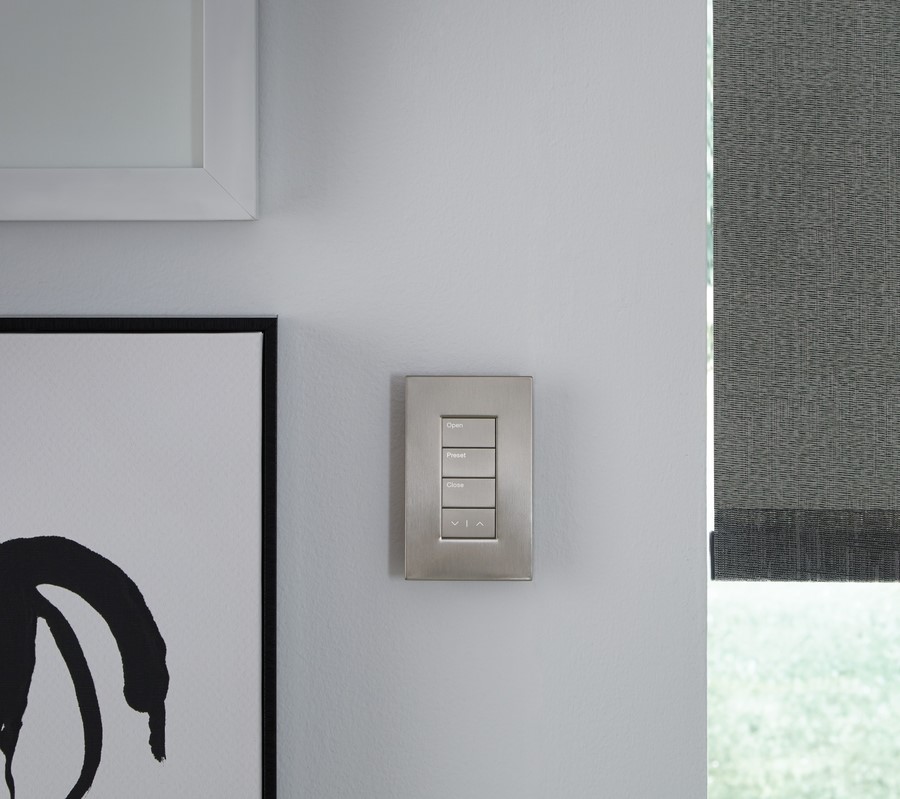 Motorized window shades can add so much to your Fairfield County, CT home. From added insulation to an elegant aesthetic in any room, automated shading has started to become a staple in every smart home.
Lutron's Palladiom shading system has new, innovative technology in the world of motorized window treatments and many benefits to its sleek, modern design. In this blog, we'll dive into the essentials of the Palladiom shades and what makes them stand out from the rest. Keep reading below to learn about this solution's many unique features and characteristics.
SEE ALSO: How Can Lutron Motorized Shades Enhance Your Home?
Bracket Enclosure Ring
The Palladiom shade keeps every part of its cutting-edge technology concealed within its own design. The shade's bracket enclosure ring hides all of its electronics and functionality, so you only see a smooth and silent bracket holding your shade together.
So, what's inside the bracket? It's everything that makes the shades go: the wiring, the programming buttons, and the rotating ring design with LED indicator lights. This rotating design is what moves the shades up and down on a daily basis – for convenient, quick, and seamless use of your automated shades at all times.
Palladiom Bottom Rail
The Palladiom is all about minimalism – both in its functionality and appearance. That's why Lutron has developed the "Palladiom Bottom Rail." This new technology always keeps the fabric clamped to the hembar, keeping the fabric sitting flat along the fabric plane.
It doesn't matter how thin or thick the fabric of your shades is; you'll still have an aesthetically pleasing window treatment when it is rolled down and even when it is rolled up and can't be seen. The small curve in the hembar will roll up and hide in the space behind the shade when it is completely open, giving you a full view of the window and what's beyond it – with no hembar in sight.
Minimal Light Gaps
Light gaps are often a necessity for motorized shade installations, especially when you have exposed roller shading like the Palladiom system. The Palladiom system has only half-inch, symmetrical light gaps – giving your shades an even and clean look.
And while their exposed roller shade setup enhances a desired contemporary design, it also increases the possibility of potential light gaps. If gaps need to be larger in order to fit certain shading installations or configurations, a finished bearing sleeve will provide a sleek look that will round out the shade's design and overall appearance.
Modern and Stylish
The Palladiom's exposed roller shading is meant to be beautifully seen from every angle. It requires no added recess, pocket, or fascia. The simplistic and modern design makes it perfect for any room or area throughout your whole home. It runs quietly, making its presence unknown while still providing luxury and enhancing your interior design.
There are various brackets to choose from, as well as different fabrics to accommodate your style. These sturdy brackets come in several finishes, can support 12-by-12-foot shades and have an impressive 3-inch profile. Palladiom shades are sleek, slim, and blend in seamlessly with the rest of your existing décor and architecture.
Want to learn more about the innovative Palladiom shading system from Lutron? Our team at Phoenix Audio Video is here to help. Give us a call at (203) 338-0706 or fill out our online contact form today to schedule a no-obligation consultation with us. We'd love to hear from you!