Now You Can Golf without Limitations
Golf Simulators Give You the Best of Both Worlds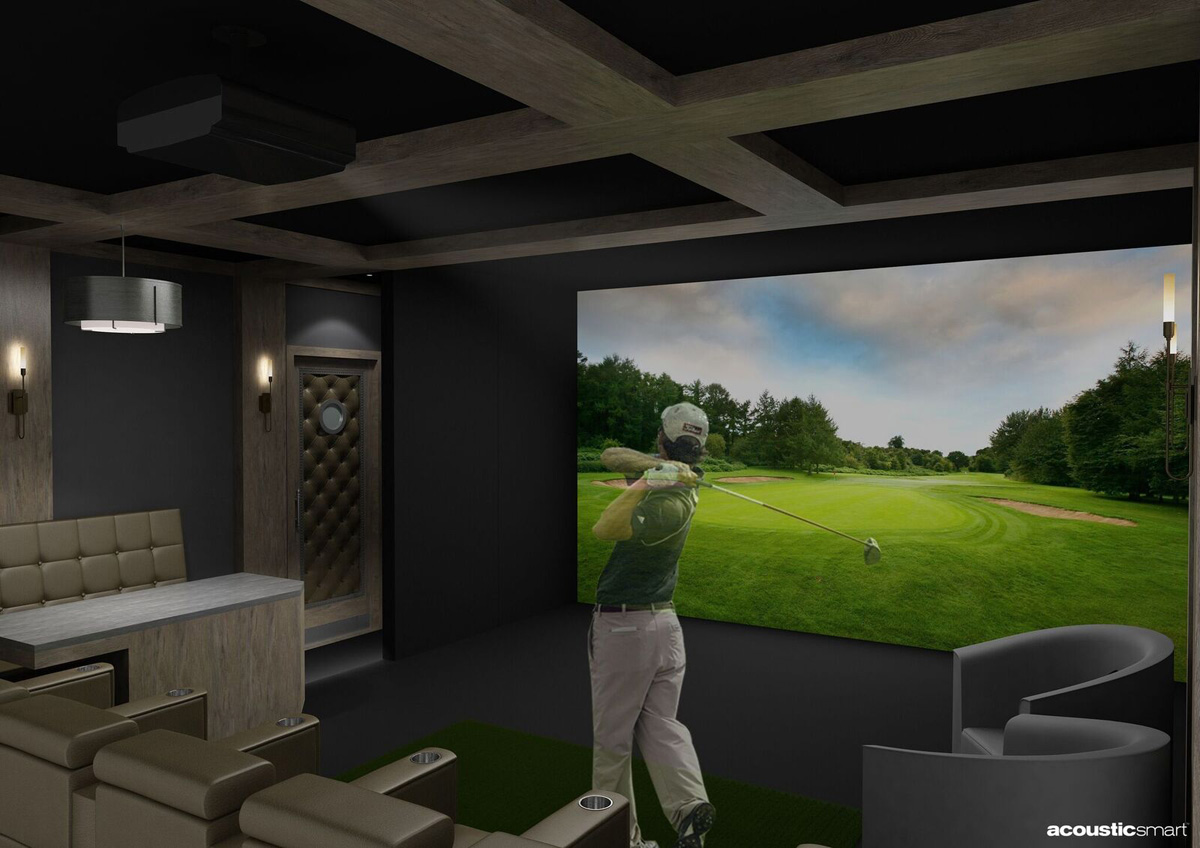 If you're entertaining guests or even just searching for something different to enjoy in your own home, you don't have to settle on just a TV or pool table to do the job. Now you can confidently invite guests over for a round of golf in rain or shine!
With a golf simulator in your Fairfield County, CT home, nothing can keep you from enjoying a round of golf. Practice for the real deal or play with friends for hours – all in the comfort of your media room.
Read on to learn how this luxury technology can transform how you enjoy this traditional pastime.
Why Choose a Golf Simulator?
It can be snowing, hailing, or raining outside – and that means a day of golfing is out of the picture. But when you're aching to get your swing in for the afternoon, a golf simulator is the ultimate solution.
If you have people over, you don't have to drive out to the golf course or wait for a set tee time. It's easy to turn on the simulator for a quick round, and even easier to get the family to join in.
You may be a pro, but if you want to bring loved ones in to your hobby, the prospect of getting started can seem daunting. But the private aspect of the simulator makes beginners feel less intimidated. As they play, the system can monitor progress and even have set training plans for each practice.
You can effectively eliminate travel time and play some of the most famous courses around the world - all without leaving your living room.
And when everyone is ready to put their golf clubs away, your screen and projector have multiple uses. Host a movie night, watch a new TV series, or play video games, all in the same space.
So How Does It Work?
Golf simulators used to be found only in in country clubs, professional offices, and resorts. That's no longer the case. You can add one to virtually any area of your home.
Here are the main parts that make the simulation happen:
Top-Notch Projector: You want a high-quality resolution to make the game feel real and immersive. Make sure you can see that ball and its trajectory every time! Unlike a film showing, you want your projector to be brighter than usual, as the lights will be left on while you play.
Impact Screen: The screen is where all the action happens. Your projector will send 3-D virtual images to the screen, which is specifically designed to withstand the golf balls harsh impact. With minimum bounce back, you won't have to worry about the golf balls flinging you back in the face!
Simulator: This is where the sensors, software, and cameras all come into play. The system checks your swing, ball speed and spin, and every angle of your game. Then it takes that information and projects it onto your screen, so it's as if you're actually on the course.
Mats & Touchpad: Your specialty mat can make you feel like you're on various platform levels, while you can also easily control it all from your user-friendly touchpad. Adjust the volume or choose your course, with one press of a button.
Play a game of golf any day, at any time. With a golf simulator, you can elevate your entertainment space in every way! Give us a call or fill out our contact form to schedule a no-obligation consultation with our team.